[Answer ID: 14650]
How To: Set up the destination backup folder when backup setup in Web UI is unable to detect or locate the destination backup folder?
Created 09/05/2012 15:59 | Updated 04/08/2013 09:42
How To: Locate backup folder when backup setup in management Web UI unable to detect or locate the Destination backup folder?
Buffalo NAS devices can back up data from one folder to another. Backup destination folder can be either on the same NAS/USB attached hard disk or on another Buffalo NAS device on the network.
The firmware, searches the network and builds a list of backup destination folders to select from the down menu.
If you do not see the target backup destination folder in the list, follow the instructions bellow to correct this.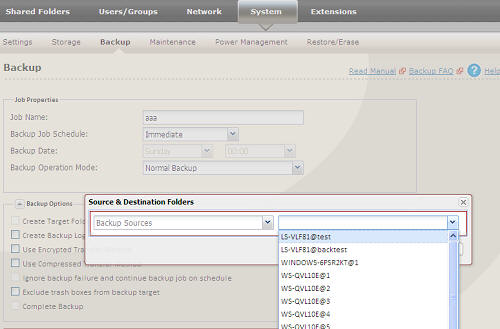 1.

Make sure the the destination folder's backup option is enabled. If you are using USB attached Hard Disk, make sure it is listed in "shared Folder" tab.

If USB hard disk is not detected, recycle power to the USB device.

2.

If the Destination directory is password protected, assign a remote backup password to the folder.

3.

NAS Backup is not compatible with some of the older NAS product. Please refer to list of compatible products here.

4.

If the difference in Ethernet frame size is large, try to set them as closely as possible. If all fails, set to exact value (default 1518 bytes).

Navigate to [Network] - [Settings] and under Ethernet Frame Size, click [Modify Settings] to change the frame size.

5.

Finally, if the destination folder is in a different LAN segment than your NAS on source folder, re-check your gateway and DNS settings.
Finally if all fails, recycle power to both units and re-try.
Please tell us how we can make this answer more useful.