[Answer ID: 14642]
How to: Restrict users' ability to delete files on LinkStation from WebAcess?
Created 09/03/2012 13:29 | Updated 04/05/2013 13:54
Using the web interface for my LinkStation, how do I restrict users' ability to delete files which are made accessible to WebAccess users?
Shared Folder "Attribute" settings are global setting regardless of User read & write permission settings. To prevent all users from deleting files in the folder , set the shared folder Attribute to read only. This will ensure no user is able to delete any file in the shared directory.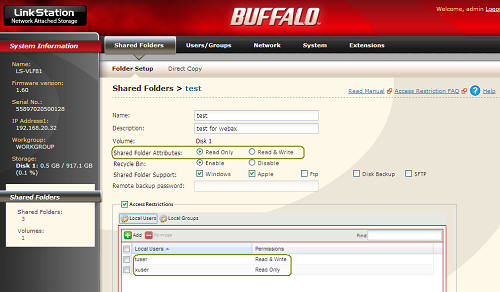 Alternatively, to control access per user account, assign "read only" permission per user account and allow read & write "Attribute" to folder.
Please tell us how we can make this answer more useful.